Monday, December 27
Canada Connection
333° 15' NET
To get back to my previous post on Canada and making a trip there. The plan is to go to Vancouver. Time of the trip around April-May 2005.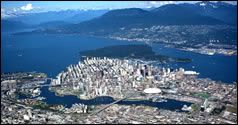 I've never been there before, so if anyone has good tips concerning the local must-see attractions or things like that, I'd like to hear about them. Especially places where one can take nice pictures are highly wanted.
Also recommendations for a nice hotel are concidered as a valuable information.
Vector at Monday, December 27, 2004
4 Comments